PH: (07) 3865 9113
Showroom: Mon-Thu 8am-4pm Fri 8am-2pm
Saturday trade from 29Jan2022 8am-1pm
SHOWROOM IS CLOSED ON SATURDAYS UNTIL FURTHER NOTICE
We are the leaders in affordable, high quality sofas in Queensland.
We manufacture on site and sell direct to the public which means you have absolute control over your finished product. Each piece is completely customisable, the only limit to what we can do is your imagination!
Thanks again for your organising. The removalist said it was such a pleasure dealing with your team and wish everyone was as good as they were, what a nice compliment to your staff there. Enjoy our lounge ! Hope you enjoy the pics as its nice to know where it ended up!
Thank you to all the wonderful people that made our lounge. We are so grateful and its so comfortable !! THANK YOU so much.
Kindest regards. Lou & Paul.
​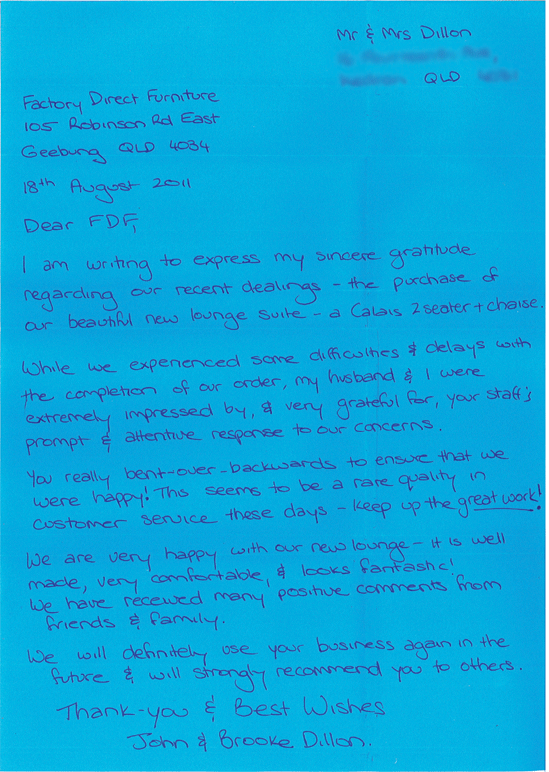 About 2 hrs ago from a very very happy FDF Customer 
There were 2 purchases – to be delivered to the same address – they got the following items
1 X PSM Queen Ensemble + 1 x LS Double Ensemble + 1 x PSM Double Ensemble + 4 x Foam Core Pillows
She rang to tell you………….
How impressed with the service she rec'd from me at point of sale
And also
How wonderful the delivery boys were (Blair & Adrian W)
They took every thing through to the right rooms – installed all the castors and removed all the plastic wrapping
She said the only thing they didn't do – was put the sheets on the bed!
She will be recommending us to everyone
Thank you for delivering our bedroom chairs and ottoman as per the agreed arrangements and to let you know how pleased we are with the quality of the pieces of furniture purchased. The workmanship and finish are both excellent and the furniture is just beautiful. I will recommend you to family and friends! Everything is made in Australia AND the prices are fantastic.
Patricia M Bridgeman Downs
Woo hoo. One stop, one shop……….Thank you for solving my seating issues
Kind Regards,
Jo****
Administration Manager
You are the man......Fabulous. Thank you so much.
I just know that I was being guided in the right direction when we met you
Go Australian goods. You deserve a medal.
Thank you, thank you, thank you
Kind Regards,
*** Lawson
Hi,
Just wanted to show you what 'your' lounge looks like in our house. Thank you it's perfect!
There was a bit of drama with the delivery chap not being told it was coming to a highset though. I had rung yesterday and advised we had a highset. So communication went a bit astray somewhere.
Two guys had to come around subsequent to the delivery and bring it upstairs. However, at the end of the day this lounge is exactly what we wanted and it suits our small lounge area perfectly.
Thank you,
Michele & David Porter
Hi Kevin,
I am sorry that it has taken so long to contact you, thank you and show you how the chairs you made are placed.
Almost every one admires them and those who sit in them love them
I took these pictures on my iPhone (that is why they are not so good, but you can get the idea) before we came up to the home show but couldn't find you.
Rob & I came up to your showroom last Sat to take a look as we needed a small lounge for downstairs. We also found that you sold beds.
Once again you came up with the goods
1 lounge, 1 ottoman and 2 single beds.
Thank you so much again
Love your work
Kind Regards,
Joyce Lawson
With the trailer we had it was all good and fitted nicely. I would just like to say it looks Fantastic in lounge room - A splash of colour with some cushions will make it look Dynamite.
After looking for a lounge for so long with other places we could not find anything that suited. It was the Home Show in Brisbane were we finally found the lounge that was on display that we thought would love our New Home. Kevin, very professional and informative on the product with no pressure and that's what I also liked.
We feel Great / Proud that our lounge is Australian Made and made by Aussie Locals from your factory. The process from start to finish, the Customer Service 8/10.
In the future we will be back and I will be telling my family /friends were it came from and that it's All Aussie Made.
Thanks
Very Happy Customers.
T & T
HI Factory Direct Furniture,
We are very happy with how the lounge we purchased for our investment property came up.
Refer attached
Kind Regards
Debra